Library Resources and Services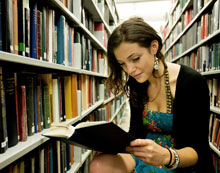 A variety of library resources and services are available for students in both on-campus and online Herzing programs.
Resources
Campuses across the system have libraries with collections including books, periodicals, and audiovisuals as well as facilities for study and research.
All students, at campuses and online, have access to dozens of extensive research databases which include full-text and indexing of thousands of journals, magazines, images, e-book reference materials, and multimedia. These electronic resources are available 24x7 via an Internet connection at home or on-campus.
Services
A team of professional librarians assist students at the campuses and in online programs with reference questions and use of the electronic and print resources.
Librarians are available via toll-free phone, email, and a variety of campus library hours.
Faculty members work with librarians to match library resources with the research resources needed for assignments and research projects.
Information literacy skills are integrated with the curriculum so students can develop their ability to work with resources effectively and efficiently.
Library Resource Center
The library/resource center at each campus contains technical, business, general studies and other books, periodicals, audiovisuals, CD-ROMs, and computers with Internet access that support classroom and laboratory learning and resource interests.
Herzing University is a member of the Library Information and Resource Network (LIRN), an online consortium that provides high quality academic materials through remote access. This membership enables students, faculty, and staff to have uninterrupted access to LIRNs virtual library, which is the equivalent of 8000 CD-ROMs, 24 hours a day from any Internet enabled computer. LIRN's database-driven collection enables users to search several collections covering virtually every area of inquiry. Extensive resources exist to search newspapers (approximately 175 sources), reference books (approximately 115 sources), magazines (approximately 675 sources), and TV/radio transcripts (approximately 60 sources).
After matriculation, students are provided with user names and passwords that enable them to log into the LIRN system and access its learning resources.
The library/resource center supports development of independent learning skills by offering research information and assistance for both focused and general research. The library also provides an ideal environment for individual study.
Herzing University students have access to all services offered by the library, including consultation with the Librarian to obtain a particular reference or to conduct research. Herzing University campuses also have agreements with local public libraries that afford students the ability to borrow from the public libraries' collections. Certain campuses are members of state virtual libraries; check with the Librarian at the individual campus to determine if that campus participates in such a program.