Boys & Girls Clubs of Greater Milwaukee Receive $40,000 Gift
The Herzing Educational Foundation presented the Boys & Girls Clubs of Greater Milwaukee with a gift in the amount of $40,000. The check was presented on Thursday, December 22 at the Daniels-Mardak Boys and Girls Club at 4834 N. 35th St. in Milwaukee.
One half of the gift will provide members with scholarships to attend Herzing University or other accredited career-orientated programs, and the remaining half will aid Boys & Girls Club programs.
"I am delighted to help support the youth developmental mission of the Boys and Girls Clubs, particularly since I had benefitted from their programs as a youngster, myself," said Henry G. Herzing, Chancellor and co- founder of Herzing University, as well as founder of the Herzing Educational Foundation. "The work of the Boys & Girls Clubs of Greater Milwaukee is immensely important to the youth of our community and critical to the future of the community itself."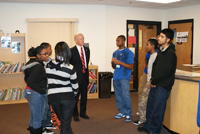 At the check presentation, several teens who participate in the Clubs' Graduation Plus pre-college programs shared how a college education will prepare them to become productive, caring, responsible adults. The programs, Upward Bound and Stein Scholars, help young people pursue academic success and increase their chances for a better life through education.
About the Herzing Educational Foundation
The Herzing Educational Foundation is a 501(c)(3) not-for-profit charitable corporation, which serves as a support organization to Herzing University and the communities in which it has campuses. The Foundation, in promoting and furthering educational goals, receives, holds, invests and administers charitable resources and makes expenditures to or for the benefit of Herzing University students, local charities and The Boys and Girls Club of America. To learn more about the Herzing Educational Foundation please visit www.herzingeducationalfoundation.org.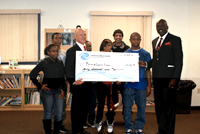 About Boys & Girls Clubs of Greater Milwaukee
Boys & Girls Clubs of Greater Milwaukee is the oldest and largest youth-serving agency in Milwaukee. It offers high quality after-school and summer programming for children ages 5-18, focusing on those who have major life obstacles, most often poverty. The Clubs operates 40 sites, which include six primary locations, 32 school sites, Camp Whitcomb/Mason in Hartland and an extension site at the Ethan Allen School for Boys in Wales. Membership to the Clubs is only $5 per year, per child, but no one is ever turned away based on inability to pay. For the latest Club news visit www.boysgirlsclubs.org or www.facebook.com/bgcmilwaukee.