Bachelor's Degree Just Became More Affordable for NW Ohio Students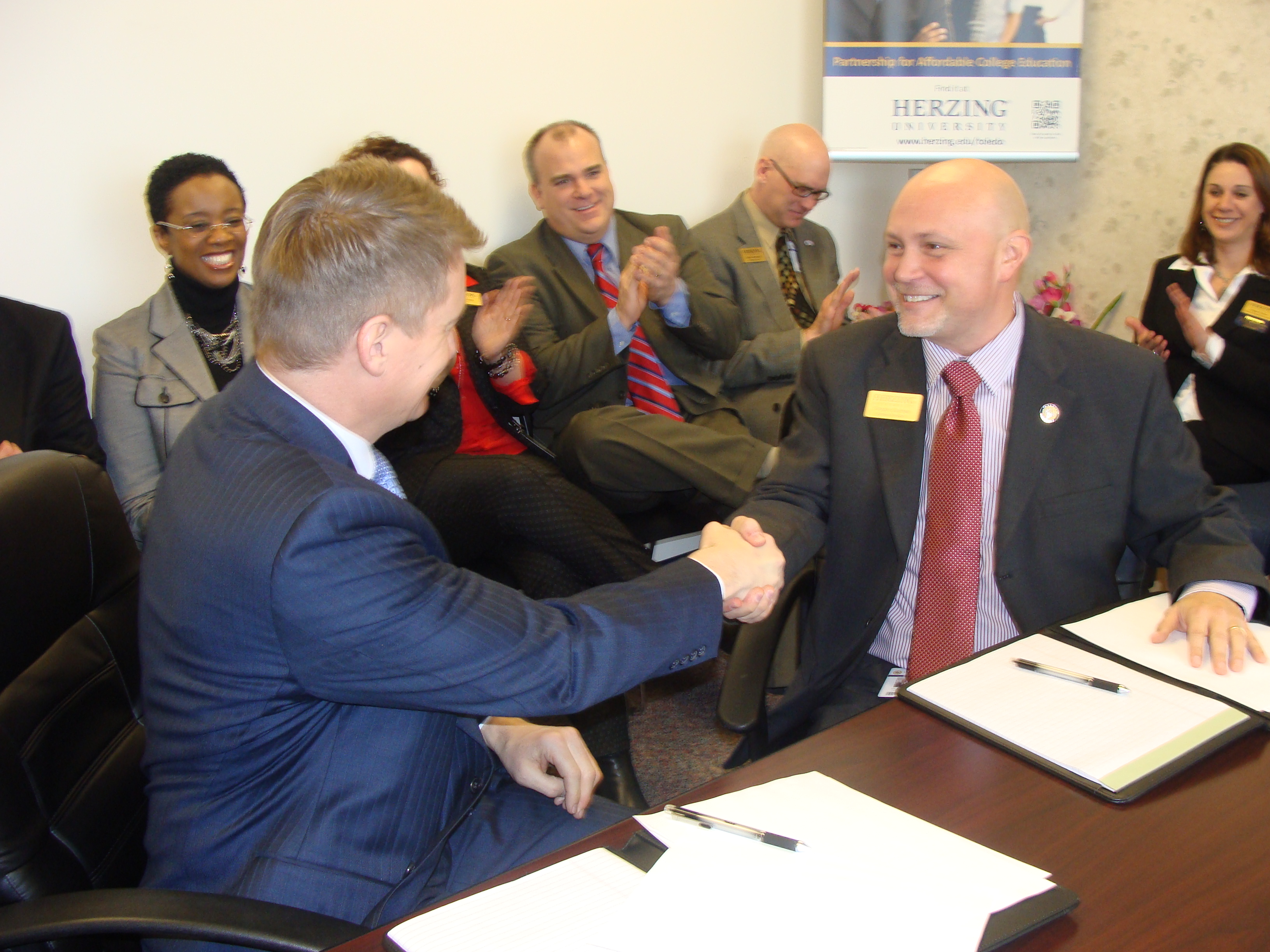 TOLEDO, OH (Jan. 30, 2014) A third local school has joined a regional higher education consortium to help make obtaining a bachelor's degree more affordable. The presidents of Herzing University – Toledo and Terra State Community College held a signing ceremony to announce the expansion of the P.A.C.E. (Partnership for Affordable College Education) program. The collaboration offers students the best of both worlds: the cost efficiencies of a community college education combined with the career-focused recognition of Herzing University. Northwest State Community College became the first P.A.C.E. program partner last summer. Northwest State President Dr. Thomas Stuckey also attended the signing ceremony.
"While many colleges and universities are usually in competition to enroll students, we recognize that collaborations should be happening instead to make higher education more affordable and accessible," said Greg Guzman, president of Herzing University's Toledo campus. "The P.A.C.E. program is all about the student—which is the way it should be."
The cost of higher education, the challenges of a work-school-family balance, and other potential obstacles are discouraging many students from pursuing a college education. This initiative looks to remove some of those barriers, making students' dreams to better their lives through education a reality.
"The P.A.C.E. program is a great example of how institutions can collaborate to better serve students," said Dr. Jerome Webster, president of Terra State Community College. "This is a wonderful and affordable option for Terra State students who want to pursue a bachelor's degree in business administration."
Currently students are able to pursue the Bachelor of Science in Business Administration degree, which includes the highly-sought after SAP educational component, and already there are plans to add degrees in technology, healthcare, and public safety to the program offerings.
To take advantage of the P.A.C.E. program, students would complete two-thirds (or three years) of their coursework through Northwest State or Terra State Community College, each of which offers a lower per-credit hour cost of a community college. Students would then finish the final third (or three semesters) of their bachelor's degree through Herzing University – Toledo. The four schools are compatible because each institution is regionally accredited by the Higher Learning Commission and are members of the North Central Association.
As a matter of convenience, Herzing University – Toledo has the ability to offer a student's remaining business courses either in the classroom or online. As Lucas County's first SAP University Alliance Institution, Herzing University – Toledo also is in a unique position to offer training that is in great demand by local corporations and businesses.
"Herzing's bachelor's in business management degree helps to bridge the gap between higher education and the needs of Northwest Ohio's employers," said Guzman. "Those who pursue this business management degree will position themselves competitively for any future openings at some of the region's largest and most prestigious companies." Sixty percent of all businesses globally run on the SAP Enterprise Resource Planning (ERP) platform. Locally, companies such as Owens-Illinois, Owens Corning, Whirlpool, The City of Toledo, Marathon Oil, Cooper Tire, Rexam, Chrysler, Ford, and Pilkington use the software platform to manage their businesses. Their need for a qualified and trained workforce is well-established.
Those interested in learning about the P.A.C.E. initiative should contact Herzing University – Toledo Director of Admissions Corey Heiserman at 419.776.0300 or the Terra State Community College admissions department at 419.334.8400.
About Herzing University – Toledo
Serving the local community since 2009, Herzing University – Toledo boasts state-of-the-industry classrooms and labs to provide a real-world, hands-on learning environment, consistent with its "career-focused, convenient and caring" educational mission. Its 17,000-square-foot facility is specifically designed to prepare students for dynamic careers in the fields of technology, business, healthcare, design and public safety. Students have the convenient option to take courses toward their bachelor's or associate degree or diploma either on-campus or online through Herzing University – Toledo, and graduate degrees are available through Herzing University Online. Herzing University – Toledo is also an SAP University Alliance institution. Information about Herzing University – Toledo is available at www.herzing.edu/toledo.
About Terra State Community College: Terra State Community College is a two-year accredited, state-supported, commuter college located in Fremont, Ohio. Terra has a long history of service to the community and providing students with an education that is both accessible and affordable. Terra offers options for those who desire to take one course or earn a full curriculum leading to an associate degree in applied business, applied science, arts, individualized study, science or technical studies. Students who wish to continue their education may transfer credits to a four-year college or universities. Terra has state-of-the-art equipment and facilities, as well as instructors that give students a quality technical education ensuring they gain a competitive edge in the job market.