Students raise money for tuition with Fundrazr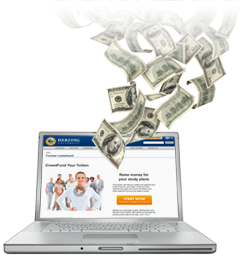 Herzing University has linked up with Fundrazr, a fund raising program that helps students to easily raise money for their education.
Many charities and non-profit groups have used Fundrazr to meet financial goals such as raising money for Hurricane Sandy relief, Race for the Cure, local animal shelters, and families battling illness. Now, students can use this same program to generate funds for their tuition.
It's easy! Students take five minutes to create an account and then share their story on Facebook, email, and more. Family, friends, employers, and anyone else who would like to show support for their educational and career goals can simply click a link and make a secure contribution that will go toward the student's tuition at Herzing University to pay for tuition.
For more information, students can go to www.herzing.edu/fundrazr, contact the Educational Funding department on campus, or email cdsupport@herzing.edu.