Atlanta Testimonials
Our Graduate Success Stories
Herzing allowed me to work during the same time that I attended classes. The instructors provided one-on-one attention and were passionate about helping students to realize their career goals. Herzing gave me the best education possible!
3393 Peachtree Road, NE, Ste 1003
Atlanta, GA 30326
(404) 816-4533
Atlanta Campus Life
Campus Activities
The Atlanta Campus offers a wide variety of student organizations, activities, and events to further enrich the educational experience at Herzing.
Professional Groups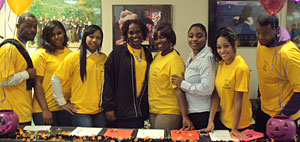 Members of the Student Government Association hold a recruiting event.
Herzing Campus chapters of national, scholastic organizations include Herzing University Legal Association (HULA) and Herzing University Global Enterprisers (HUGE). Students are encouraged to become active leaders through the Herzing Student Government Association, Health Care Club, and International Association.
---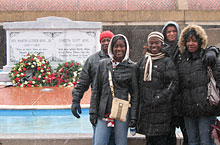 Student field trip to the Martin Luther King, Jr. Memorial
Field Trips and Excursions
Multiple off-campus field trips are scheduled on a regular basis. Herzing students have traveled to the Grand Canyon, Sapelo Island, Niagara Falls, Canada, Washington, D.C., and various museums and cultural events throughout the Metro Atlanta area.
---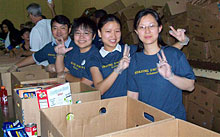 Atlanta students dedicated approximately 156-volunteer hours to the Atlanta Community Food Bank
Community Service
Students have the option of participating in community volunteer efforts, such as working with the Atlanta Community Food Bank, Salvation Army or Habitat for Humanity.
During 2009, Atlanta students dedicated approximately 156-volunteer hours to the Atlanta Community Food Bank – packing and sorting over 33,600 pounds of donated food products.
---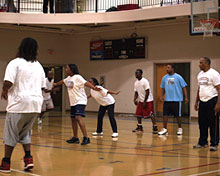 Students, faculty and staff – in action, during an intramural game of the "Herzing Basketball Association."
Other Activities
Student debates, International Day, weekly Lunch and Learn discussions, intramural basketball and tutorial services are a few examples of the diversified campus environment at Herzing.